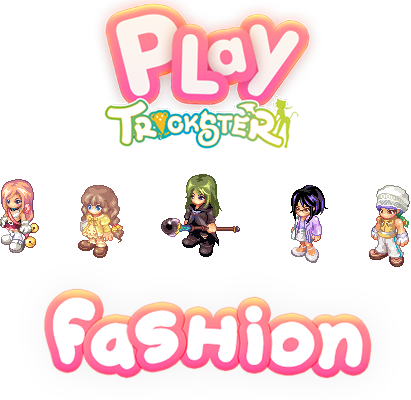 PlayTrickster has plenty of fashion to choose from. Customize your character to your liking! Fashion is obtained in many ways. The most common/easiest way to obtain fashion is through "MyShop". (Shortcut 'Y') You may buy them in a bundle or each piece seperately on the "WebShop". (You can find the WebShop on the PlayTrickster website) MyShop points are obtained through the donation  page. Alternately, you can try your luck at the Carved Wooden Boxes. Each box holds a different piece of fashion, so be sure to check out the contents before buying!
Schoolgirl 
 
Name

Pink Hoodie

Yellow Hoodie

Lime Hoodie

Sky Blue Hoodie

White Hoodie

Black Hoodie

Pink Gloves

Orange Gloves

Green Gloves

Customised Purple Gloves

White Gloves

Black Gloves

Crimson Pleated Skirt

Orange Skort

Yellow Skort

Purple Skort

White Wrinkle Skirt

Black Pleated Skirt

Ivory Shoes

Yellow Sneakers

Olive Shoes

Blue Sneakers

White Shoes

Black Sneakers

Purple Backpack

Brown Mini-Bag

Olive Mini-Bag

Steel-Blue Bag

White Mini-Bag

Black Backpack
Community content is available under
CC-BY-SA
unless otherwise noted.