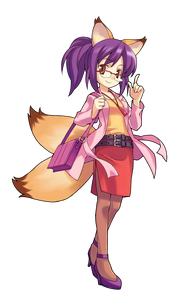 Description and Appearance
The fox is the female counter-part of the Sense-types. They focus on the Shuriken or Throwing skill and Detection ability (DA). The fox wears stylish glasses and has two tails, which sets her apart from the other characters.
Fox Hair Dye

2,700 Points

Refined Hair Coloring

2,700 Points
Veronica's Prologue
Veronica is an archaeologist with sharp intuition, logics, and also a very rational person. She was the youngest person ever to earn a PhD in archaeology and soon becomes famous for all her works and findings in her field. When Veronica finds out about a new mysterious island that popped up in the middle of the Pacific Ocean, she wants to explore the island but is beaten by Don Cavalier. Her entrance to the competition is just an excuse to explore and study the island.
Job Tree
Skills
(
See also:
Sense skills)
Invincible Drilling

Gun Carrier

Sixth Sense

Stone Strike

Heavy Carrier

Shuriken Master

Invincible Reload

Sticky Foot

Gun Booster

Basic Detection

Armor Destructor

Quick Reload

Lucky Seven

Anger Management

Compound Mastery
Community content is available under
CC-BY-SA
unless otherwise noted.