"Add me!"
Information
The Wizard sacrifices mastery in his chosen element in order to gain access to a variety of elemental spells, allowing him to take on more situations than he ever could before.
With his new hybridized power, the Wizard can now learn two elements alongside whatever pact he chose as a young Magician. The elements he can pick from are the same as Bard's, allowing him to learn his job skills from the same master as her.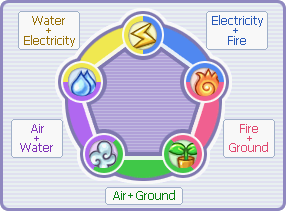 Hair Dye Colors
Upon job advancing, all new Wizards will start out with a default purple hair color. If you want to change the color, you can purchase a Hair Dye item from MyShop. Once the item is used, your character will always have that color hair in that job, unless changed later. If you revert back to a previous job however, you will use whichever hair color that job was set at.
Notes: Please note there are different hair dye items for each character and job when purchasing from MyShop.
Job Tree
Skill
Wizard learns the same skills as Bard does, but require a higher TM level than her. The new TM level requirement is 50 levels above what the Bard needs. The cards will show what level both Bard and Wizard need to be in order to learn them. For more information on their skills, see the chart below.